Romeo & Juliet




In the autumn of 1995, I had the pleasure of being in the production of Romeo & Juliet for SUNY Cortland College. They had open auditions and my girlfriend at the time had talked me into trying out for a part. I had my heart set on a huge part, but I hadn't done plays before and the director "loved" my looks. Unfortunately with no background in stage he didn't know if he could take a chance. I was cast (typecast) as Tybalt. I found it a very rewarding part and a hell of a lot of work! I got terribly ill during product and lost my voice. Fortunately I gained it back in time for first curtain. I also got into a real knife fight with Romeo (not intentionally) and got slashed across the brow with a real dagger. The wound had five stitches to pull it closed. The scar was perfect for the show.



This is me (on left) with James "Doc" Palmer and Deborah Sarfas.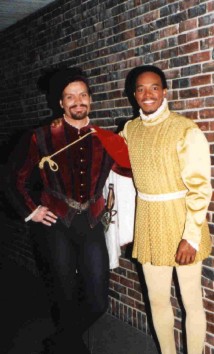 Me with Mercutio (Tony Brown). It was a pleasure working with and watching this Master work. Tony was acting/directing at Syracuse University and a 1988 SUNY Cortland graduate.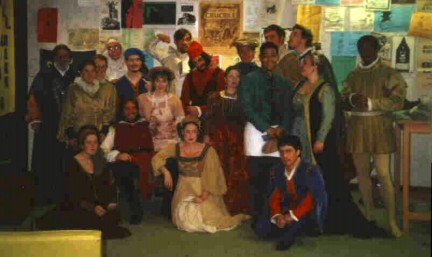 The majority of the cast. Tybalt was behind the camera.

A Kodak moment back stage during production.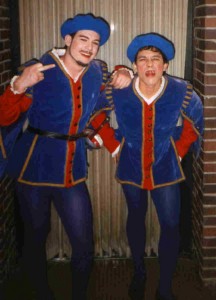 Two of the Montagues, Kris LaGrange (left), thespian by day, studied law and hoped to pursue politics. Matt Kashorek (right)at the time was planning to graduate college or become a mercenary aiding the overthrow of repressive governments.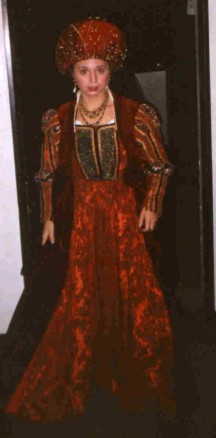 Jennifer Ann Miller, captured here as Lady Capulet, was a senior Psychology major at the time of the production. The subplot to the play where Tybalt & Lady Capulet was perfect here because we happened to be dating at the time. Jennifer is extremely talented and (the last I knew) still producing her own plays. I miss her wit and great dancing.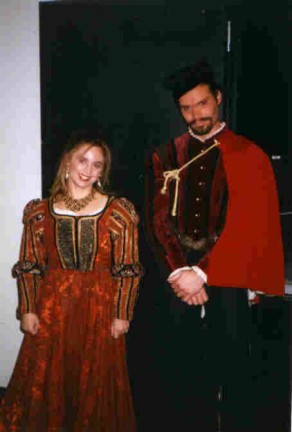 I look a little "evil" in this shot, but truth was it was a late run-through and I was getting over being ill. We did our own make up and I always wore mine too dark.

Jill Huckabee (Juliet), was a junior Communications major with a long list of theater. She was also three months pregnant at the time of the play. Sam Sgroi (Romeo), was a senior Theatre major and appeared in countless productions. A side note here: Sam and my wife, Carrie, were in the same high school class and starred together in a few plays. It's a little strange to think that he and my wife knew each other before I ever met Carrie. We're still actively looking for the where-abouts of Sam. He is a very talented person.

COPYRIGHT 2000-2001 Robert Rootes

E-mail Robert
Return to Robert Rootes Main Page

http://robertrootes.tripod.com/